Personnal data protection policy
The objective of this policy is to regulate the conformity of the processing of personal data and the respect of the rights of the people concerned by the implementation of the website www.cerience.fr by the company Cérience. The reference texts of this policy are the GDPR (General Data Protection Regulations) and the so-called "Data Protection and Freedom Act" as amended. The concepts used in this policy are defined in the GDPR, in particular the concepts of processing, personal data or personal character information, data subjects and data controller.
Cérience is committed to respecting the privacy and protecting the personal data of our users. We are committed to defining and applying the appropriate measures to ensure the security of the processing of your personal data. In this document, we inform you how your personal data will be processed and protected.

Who is the data controller ?

Cérience - 2 Route de la Ménitré - Beaufort-en-Vallée - 49250 BEAUFORT-EN-ANJOU - RCS Angers 822 478 152 - is responsible for processing your personal data according to the General Data Protection Regulation (GDPR).
Contact details of the data protection officer: dataprotection[@]cerience.fr

What kind of personal data do we collect ?

You can visit our website without disclosing any personal information. However, some services you use require the collection and retention of a number of automatically recognised elements: date and time, IP address, domain name, browser software and operating system used (if the browser provides this information), the address of the page visited (if the browser provides it), the requested object and the execution status of the request.
This data is collected by means of cookies, intended to improve our services and for statistical purposes.
Cérience collects and processes personal data in a fair and lawful manner. The data collected includes the following categories:
Concerning the contact form: surname, first name, email address, message
Concerning the Cérience newsletter subscription form: email address
Concerning the recruitment form: surname, first name, email address, message
Concerning the newsletter subscription form: This is for the purpose of marketing, providing information or invitation to some events if you have authorised us to do so by ticking the appropriate box.
If you have subscribed to our Newsletter, your contact information will be saved in our emailing solution. If you don't want to receive our Newsletter any more, you can unsubscribe by sending us an email and we will remove your information. In order to provide you with the most appropriate news and offerings, we can base our newsletters on your purchase history. We can also select the customers for some surveys in order to improve our website and our product range.

For the recruitment form: This is an application for a position within the company.
Concerning the subscription form for the Pro Area: The data collection should allow to: create and manage your orders on the website, deliver your orders and returns, contact you in case of problems with the delivery, handle the complaints or the warranty issues.
Cérience implements this processing in accordance with its legitimate interest in responding to the requests you send us with the exception of prospecting activities which are based on consent.
Consulting the website, filling in forms and receiving communications and prospecting actions are, of course, optional. The mandatory data to be entered in the form are marked by a * and enable us to contact you again and to address your needs and requests in the best way.

How are your personal data personal data processed and secured ?

We keep your personal data to be able to manage the requested action.
Cérience determines and implements the means necessary to protect the processing of personal data in order to prevent any access by an unauthorised third party and to prevent any loss, alteration or disclosure of data.

Where and for how long will your data be stored ?

Cérience does not store personal character information for longer than necessary to achieve the purpose of the processing, while respecting the applicable legal and regulatory limits.
When you are a potential customer, your data is kept for 3 years from the last contact you had with the company unless special legal constraints.
When you are a candidate for a position, your application data are kept for 2 years unless hired within the company's workforce.
Cookies have a maximum validity period of 13 months.
We retain your information for as long as necessary to fulfil the above objectives or for as long as we are required to do so by law. Then your personal information is deleted. The same personal data may be stored in several locations. This means that information can be removed from one location to be kept in another when it is still needed.

To whom is your personal data transmitted ?

The recipient of your personal data is Cérience.
Only duly authorised recipients may access, within the framework of an access management policy, to the information necessary for their activity. Indeed, Cérience defines the rules of access and confidentiality applicable to the personal data processed.
How do we protect your personal data ?

Cérience and its technical service providers use technical and organisational security measures to protect your data against manipulation, loss, destruction or unauthorised access. The personal data you provide to Cérience will be encrypted as soon as possible to prevent their misuse by others. Our security routines are continuously revised and built on technical developments.
Our staff and those of our subcontractors with access to personal data are contractually bound by an obligation of confidentiality.

What are your rights ?

According to the General Data Protection Regulation (GDPR), you have the following rights:
Right to access
Right to rectification
Right to erasure
Right to restrict processing
Right to data portability
Right to object to the processing of your data on legitimate grounds and automated individual decision-making, including profiling
Right to object to commercial prospecting
Right to define general or specific guidelines relating to the storage, deletion or communication of your personal data after your death.

To exercise these rights or for any questions about the processing of your data in this system, you can contact the person in charge of data protection:
by electronic means: data protection@cerience.fr
by regular mail: Cérience – Service CIL/DPO, 7 avenue Jean Joxé, CS 20148, 49002 Angers cédex 01.

When exercising your rights, we may ask you to provide us with proof of your identity. Otherwise, we will not be able to process your request and we will reserve the right not to grant your request.
If you feel, after having contacted us, that your rights to the Data Protection have not been respected, you may make a complaint to the CNIL (French Data Protection Policy).

Collection of personal data through our websites

When using our website, we store data for various security reasons. This information may include the name of your Internet service provider, the website you used to link to our website, the web pages you browse on our website and your IP address.
Use of cookies

The website uses cookies. Cookies are small text files stored on your hard drive by your web browser. They store specific information (such as your choice of language or page) to which your browser returns to the next time you browse our website.
We use several categories of cookies: cookies necessary for technical reasons, without which the functionality of the website is limited, cookies to measure audience, for which we anonymise your data

Advertising cookies are issued by our sponsors, in the advertising spaces of our website, the use of these spaces contributing to the financing of the contents and services that we make available to you free of charge. These cookies are lodged by our partners within the framework of advertising partnerships under the terms of which the agencies may be required to collect data concerning the content consulted on our website, in compliance with the provisions of the Data Protection Act of 1978 as amended. These cookies make it possible, first of all, to count the total number of advertisements displayed in our advertising spaces, to identify these advertisements, the number of users having clicked on each advertisement and, if applicable, the subsequent actions carried out by these users on the pages to which these advertisements lead, in order to calculate the sums owed to the actors of the advertising distribution chain (communication agency, advertising agency, site/dissemination medium) and to compile statistics. These advertising cookies also make it possible to adapt the advertising content displayed on your device in our advertising spaces, depending on how your device navigates on our website, or, if necessary, depending on the location data (longitude and latitude) transmitted by your device with your prior agreement. These Cookies can also be used to adapt the advertising content displayed on your device in our advertising spaces according to the personal data that you may have voluntarily provided (advertising targeting). The lifespan of these advertising cookies does not exceed 13 months.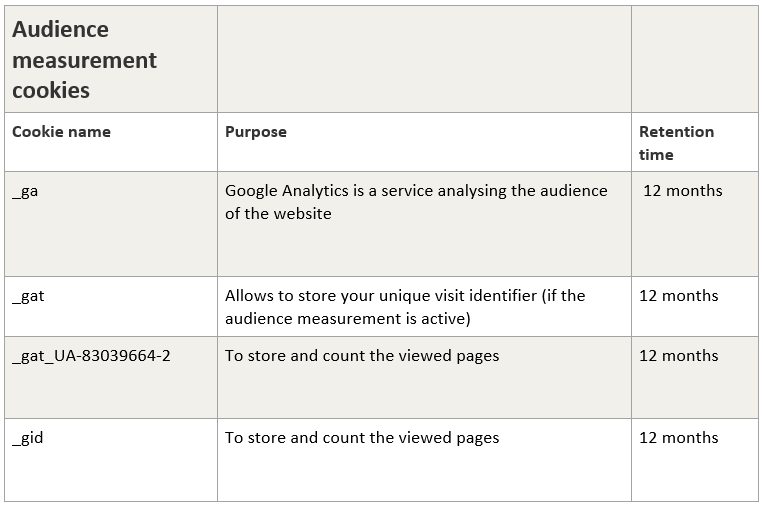 Partners and advertising cookies used:
YouTube (hosting videos)
Google Analytics (audience measurement)
Social Network Cookies allow you to share our website's content with other people or to let these people know your visit or your opinion about some content on the website. In particular, this is the case for the "share" and "like" buttons on social networks such as Facebook or Twitter. An image is put on hold for your cookie banner consent. If you refuse this acceptance, the image will persist but the button will be inactive. The data transmitted to Facebook and Twitter are transferred outside Europe to the United States. We invite you to read the privacy policies of these social networks in order to be aware of the purposes of use, particularly advertising, of the browsing information they may collect through these application buttons. The lifespan of these cookies does not exceed 13 months.

Partners and social networks cookies used:
Facebook (Social networks)
LinkedIn (Social networks)
Hyperlinks :

The practices described in this personal data protection policy statement only apply to the website www.cerience.fr. External links from other services/entities linked to Cérience may be present on our website for partnership purposes. You may refer to the privacy policies of other services/ entities when you visit their website(s). We draw your attention to the fact that we are in no way responsible for the privacy policy and the content of other websites.