Our industrial services
Cérience offers you a complete range of services for seed production of many species.
360 Seed Service
With 360 Seed Service, we offer seed companies and breeders a unique service range on the market!
We offer you to process all or part of your seed production from multiplication to delivery!
Our offer 360 Seed Service is composed of 4 major fields of competences:
Seed production
Seed cleaning (processing)
Seed technologies
Supply chain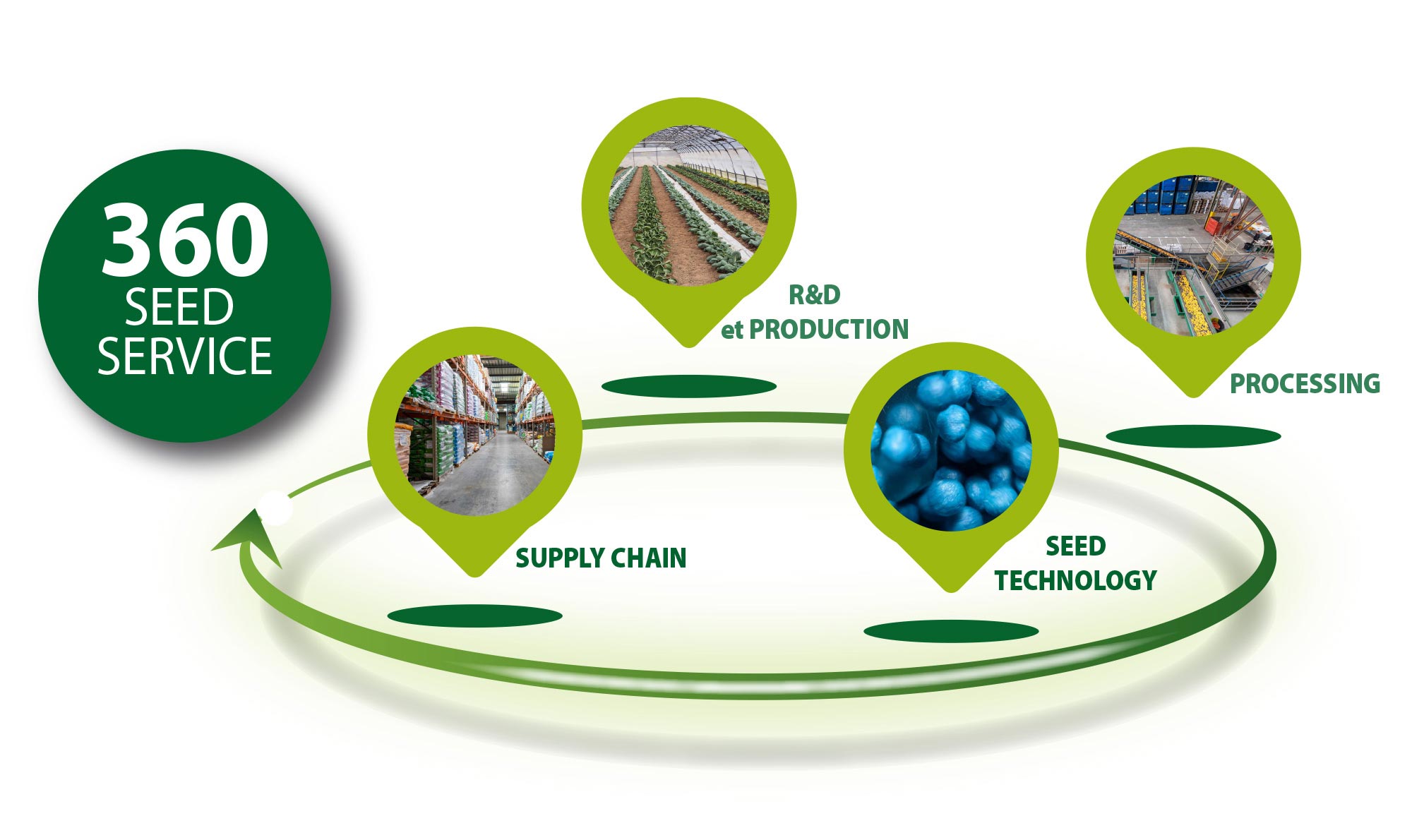 Few figures
Production
For 50 years, we have been multiplying seeds for growers and breeders. We take action on conservative breeding, maintenance of parental lines and multiplication of commercial seeds.

For seeds production, we cooperate with a network of 1,500 farmers and we are currently multiplying approximately 80 species of field crop, fodders, vegetables, flowers, etc.

Our team of technicals surpervisors works with the production farmers from the fields assesments to the harvests fulfilling the specifications of our customers and targeting the highest possible yields.

Finally, in order to garanty the highest quality standards, our 2 laboratories carry out more than 30,000 sample analysis each year. We monitor the physiological and sanitary status of the seeds, germination and varietal purity according to the ISTA rules.
Processing
Our 3 industrial sites are fully able to control the industrial seed processing steps for approximately 80 species: big and small seeds, maize, vegetables, alfalfa, etc.

On organic as well as conventional seed production, we offer you to handle all the processes: drying, cleaning, calibration, disinfection, treatment, packing, shipping, etc.
Our latest generation equipments are ISO 9001, ESTA (PQP) certified. Thanks to the know-how of our teams, we produce each year more than 55,000 tons of seeds.

Seed technology
In order to value your genetic, Cérience also offers you its expertise in seed technology: disinfection, treatment, film laminating and coating.
We have two high capacity industrial units and we offer you a unique know-how for the formulation, application and quality control of seed solutions.
We perform on-demand services and we also offer you our self-developed technologies, such as our SAS (Seeds Applied Solutions) range: SAS Energy, SAS Ready, SAS Gold, SAS Life, SAS Myc, etc.

Supply chain
You can benefit from Cérience deep experience to implement high standard supply chain procedures. We can handle for you all the industrial steps: reception of goods before processing, storage, refrigeration, high security storage for plant health products, shipment, management of returned goods with seeds recertification and shipment.

Our supply chain platforms are able to handle deliveries everywhere in France and abroad, preparations of orders, loading of the trucks and last mile management.

We provide tailor-made services according to our customers' specifications, including exported containers.
55000
Tons of seeds processed for other companies
Do you want to benefit from our skills?
For more information about our services, our industrial equipment or our production calendars, feel free to contact us and one of us will get in touch with you!